DESCRIPTION
After two long years of rigorous R&D and raving reviews since release, the NEW Cody Townsend Pro Series backcountry sock has landed! Cody and the Le Bent team of foot nerds went to town on the new, elevated aesthetic of the 'Le Send' sock to create a design that speaks to the sculpted peaks and shadowed shutes that will inspire the adventurous and creative brains of any backcountry dweller. Notably one of the highest regarded big mountain free skiers of this generation. Cody Townsend has a long list of accolades under his belt including the epic tick list he's gone after as showcased in his series 'The Fifty Project' – where he decided to not only ski down fifty of the best big mountain lines in North America, but also climb each of them too. A true testing ground for the evolution of the world's first backcountry sock.
FEATURES
We redefined a sock for the backcountry in key technical areas:
1. Silicon Ankle Locks: strategically placed bonded silicone strips across the rear of the ankle, eliminating foot slip and avoiding the infamous anxious sock-bunch. 
2. Silicone Cuff: once we started playing with silicone we immediately fell in love with it and went a step further, adding a silicone ring to the top cuff below the knee. Keeping socks standing tall, without claiming hairs, so you can break trail without your socks going flaccid. 
3. Toe Box Cushioning: packing more cushion into this high-impact area making for a more comfortable experience with extra warmth over the foot fingers. 
4. Shin Compression Area: we combined the thinking of a sports compression sleeve and a sock together in one. By adding slight compression to the shin & calf areas, helping to manage lactic-induced fatigue. 
5. Mesh Ventilation: we developed a new mesh ventilation zone to increase breathability across the top of the foot, allowing cushioning to stay where it's needed on the base and toe, while letting moisture and steam release from the top of the foot. 
 These features and new technology have revolutionised comfort for any backcountry touring mission.
FABRIC & CARE
SHIPPING & RETURNS
Free shipping on all orders over $79
All orders are shipped via a trackable courier
100% SATISFACTION GUARANTEE
100 DAYS WORN OR UNWORN
Read More
CODY'S TECHNOLOGY
DEFINITIVE FIT SYSTEM™ - A BETTER FIT

Elastics & strategic stitching provide targeted support in all the key areas:
ELASTICATED INSTEP

To make its secure and snug, no wrinkles or bunching.
ANKLE BAND

Precision fit for those twists and turns all day long.
ACHILLES SUPPORT

Extra comfort in this high friction area, also minimising heel lift.
MEMORY STRETCH

Moulds to your foot every time you put the socks on.
Discover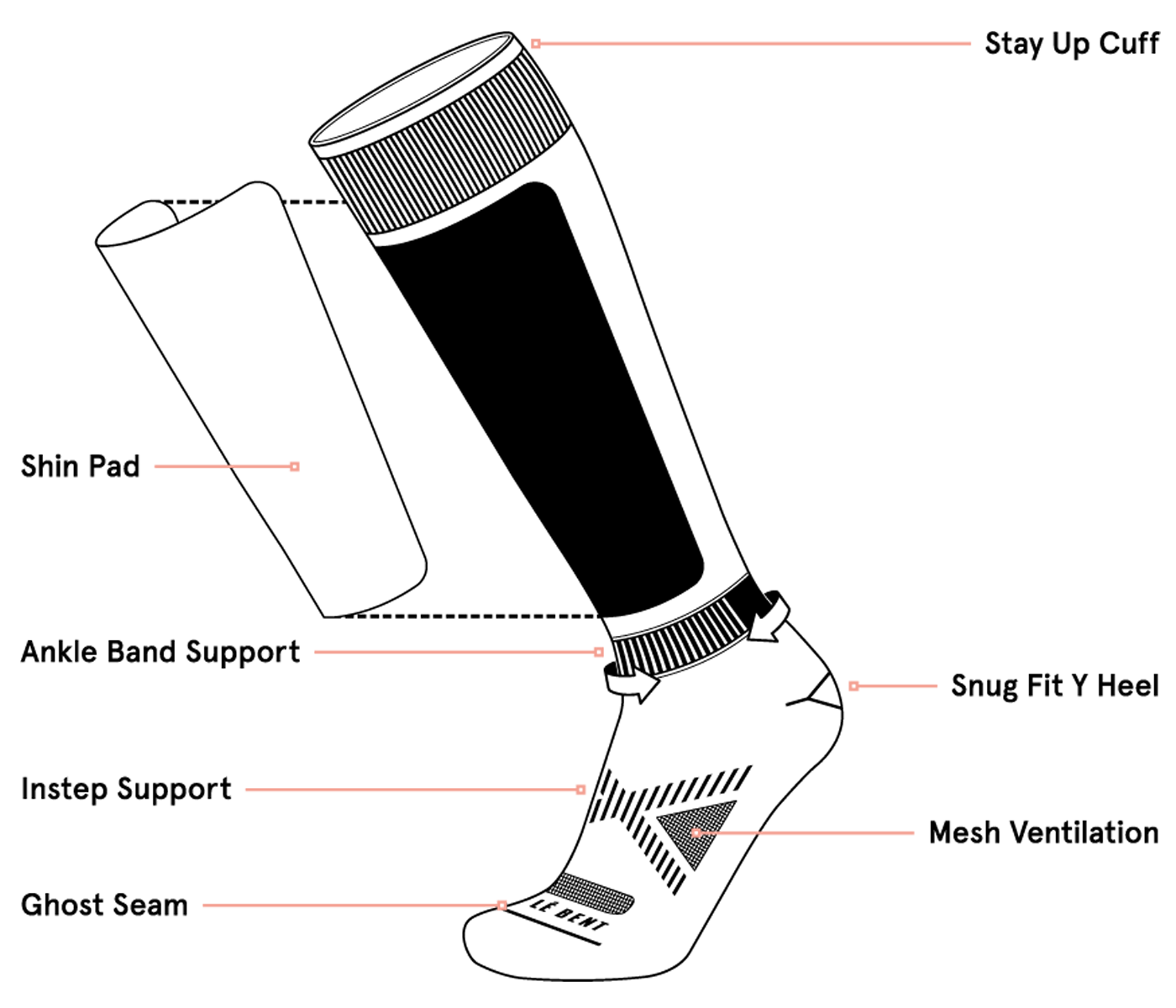 Reviews
Customer Reviews
28/07/2021
Goz

Australia
These socks won't disappoint!
My last pair of Le Bent snow socks lasted 8 years, Amazing customer service and fast shipping What more can you ask for?
08/04/2021
Steve

Australia
THE BEST ON THE MARKET
Attention to detail. Quality fabrics. Comfortability Cannot ask for much more!!! Bent life! 5 stars
08/04/2021
Eddie M.

Australia
Love the sock
My first day with the new socks and it was noticeable. I'm a funds low, high stoke skier with old boots and probably packed out liners, so I've been used to some heal slippage. Who isn't, right??? Gotta say, my foot stayed solid in the liner and the only movement I experienced was when I got in the back seat on the steeps, hit a pocked of wind drift and face planted my way out of the heel of my binding. I'm a first timer having the added compression zone around my calf. It was great and most noticeable in my recovery the next day!!!! Thanks Lé Bent and Cody!!! Share the stoke, Eddie
Size Guide
SOCKS
ADULT
US Men
US Women / AU Women
Euro
UK / AU Men
Small
3-5.5
4-6.5
34-37
2-4.5
Medium
6-8.5
7-9.5
38-41
5-7.5
Large
9-11.5
10-12.5
42-45
8-10.5
X Large
12-14.5
N/A
46-49
11-13.5
KIDS
US
Euro
UK
Small
9-11.5
26-28
8-10.5
Medium
12-2.5
29-32
11-13.5
Large
3-6
33-36
1-4.5
MEN'S Inches
Small
Medium
Large
X-Large
Chest
36-38
39-41
42-44
45-48
Waist
29-31
32-34
35-37
38-40
Hip
36-38
39-41
42-44
45-48
Arm Length
31-32
32-33
33-34
34-35
MEN'S CMs
Small
Medium
Large
X-Large
Chest
91.5-96.5
99-104
106.5-112
114.5-122
Waist
73.5-78.5
81.5-86.5
89-94
96.5-101.5
Hip
89-96.5
99-104
106.5-112
114.5-122
Arm Length
78.5-81.5
81.5-84
84-86.5
86.5-89
WOMEN'S Inches
X-Small
Small
Medium
Large
Chest
32-33
34-35
36-38
39-40
Waist
24-25
26-27
28-30
31-32
Hip
35-36
37-38
39-40
41-42
Arm Length
27-28
28-29
29-30
30-31
WOMEN'S CMs
X-Small
Small
Medium
Large
Chest
81.5-84
86.5-89
91.5-96.5
99-101.5
Waist
61-63.5
66-68.5
71-76
78.5-81.5
Hip
89-91.5
94-96.5
99-101.5
104-106.5
Arm Length
68.5-71
71-73.5
73.5-76
76-78.5
KIDS'S Inches
Small
Medium
Large
X-Large
Age
5-6
7-8
9-10
11-12
Chest
24-25
25.5-26.5
27-28
28.5 - 30
Waist
22-22.5
23-24
24.5-25
25.5 - 26.5
Height
42-48
48-54
54-57
57 - 60
Weight (lbs)
42-49
49-59
59-75
75 - 89
KID'S CMs
Small
Medium
Large
X-Large
Age
5-6
7-8
9-10
11-12
Chest
61-63.5
64-67.5
68.5-71
72.5-76
Waist
56-57
58.5-61
62-63.5
65-66
Height
106.5-122
122-137
137-145
145-152.5
Weight (kgs)
19-22
22-26.5
26.5-34
33-40.5
UNISEX Inches
Extra Small
Small
Medium
Large
Length
6.5"
7"
7.5"
8"
Width
7.5"
7.5" - 8"
8" - 8.5"
8.5" - 9"
UNISEX CMs
Extra Small
Small
Medium
Large
Length
17
18
19
20
Width
18.5
19.5
21
22.5