DESCRIPTION
What do you get when you combine big mountain free-skier Cody Townsend, a sock sketch and Le Bent?... Well, you get the world's first specifically designed backcountry sock of course! Designed in collaboration with Cody Townsend, these high performance snow socks came to fruition after two years of R&D and some of the best field testing possible by the man himself as he went after the top fifty lines in North America.
We established key critical areas for improvement which set the baseline for how we redefined a sock made for the backcountry. These include:
 1. Silicon Ankle Locks: strategically placed bonded silicone strips across the rear of the ankle, eliminating foot slip and avoiding the infamous anxious sock-bunch.
 2. Silicone Cuff: once we started playing with silicone we immediately fell in love with it and went a step further, adding a silicone ring to the top cuff below the knee. Keeping socks standing tall, without claiming hairs, so you can break trail without your socks going flaccid. 
 3. Toe Box Cushioning: packing more cushion into this high-impact area making for a more comfortable experience with extra warmth over the foot fingers.
 4. Shin Compression Area: we combined the thinking of a sports compression sleeve and a sock together in one. By adding slight compression to the shin & calf areas, helping to manage lactic-induced fatigue.
 5.  Mesh Ventilation: we developed a new mesh ventilation zone to increase breathability across the top of the foot, allowing cushioning to stay where it's needed on the base and toe, while letting moisture and steam release from the top of the foot.
These features and new technology have revolutionised comfort for any backcountry touring mission. Allowing your boots to do what they were built for.
Tried and tested but the unsung hero of Cody's current The Fifty Project… and the reason he hasn't had a blister since joining le team.
FABRIC & CARE
SHIPPING & RETURNS
Free shipping on all orders over $79
All orders are shipped via a trackable courier
100% SATISFACTION GUARANTEE
100 DAYS WORN OR UNWORN
Read More
CODY'S TECHNOLOGY
DEFINITIVE FIT SYSTEM™ - A BETTER FIT

Elastics & strategic stitching provide targeted support in all the key areas:
SILICONE SOCK LOCK + STAY UP CUFF

Thoughtfully placed internal silicon grip and 360º cuff so they stay up all day.
SILICONE HEEL LOCK

No-slip silicone grips on the heel to keep your foot locked in place.
MESH BREATHABILITY ZONE

For maximum moisture wicking and temperature control.
TOE CUSHIONING + GHOST SEAM

Additional padding for your foot fingers, keeping them snug with zero annoying rub.



SEMI COMPRESSION ZONE

Semi compression in the calf & shin area to aid in recovery after hours breaking trail.
Discover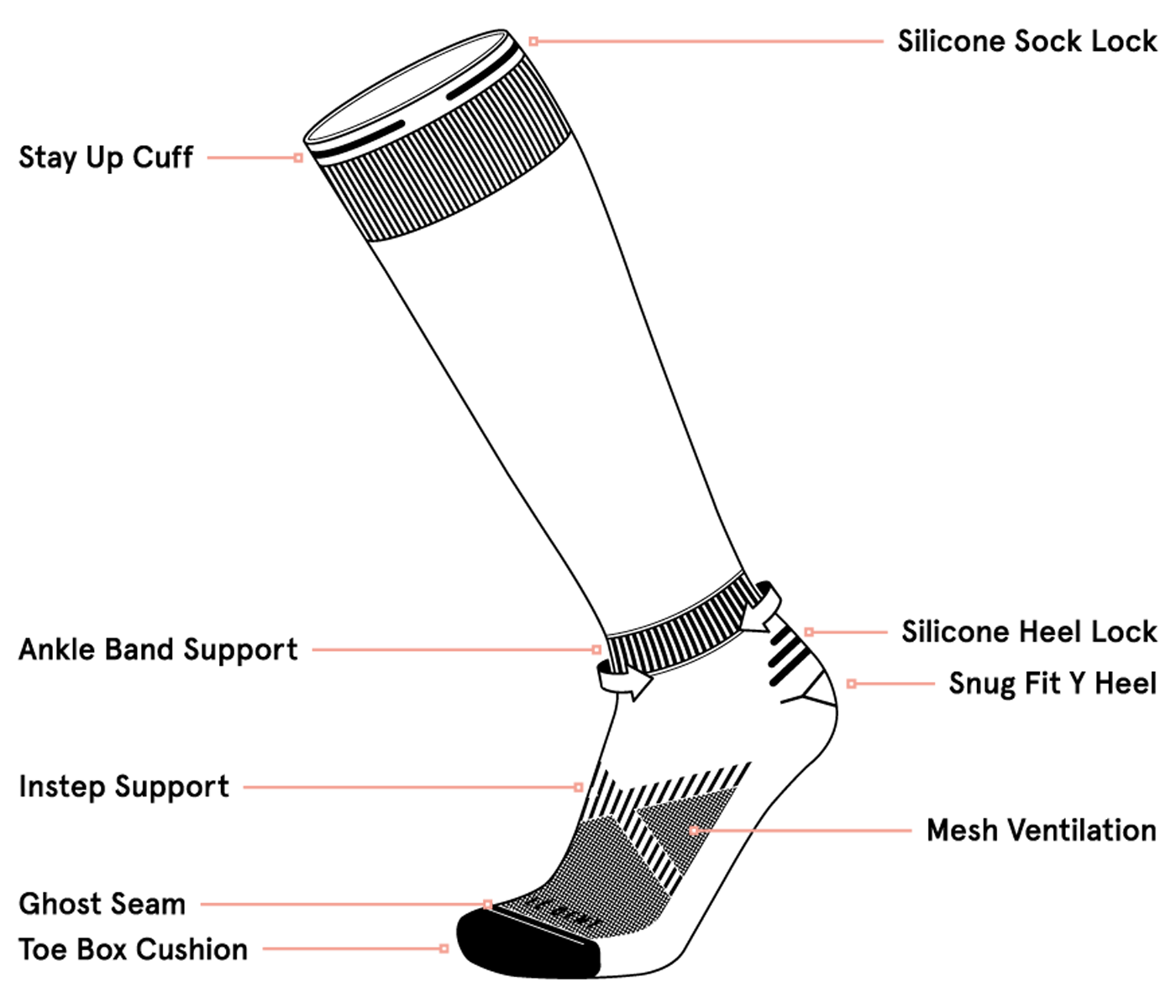 Reviews
Customer Reviews
14/10/2020
Clinton K.
Australia
Good socks
These are good socks. They are thinner than all the other socks i have. So be aware you will have more room in your boots than your fatty smart wool or burton socks. The rubber at the top keeps them up when you pull your pants down to poo and i liked that.
13/10/2020
Andy
Australia
Happy feet
Have approx 150 days in two pair of these socks that I purchased last year. 100 backcountry touring and 30 days in resort/slackcountry. Normally by now I'm wearing thin areas in the heel and often even holes in delicate merino socks, but so far these are holding up strong. I was a little worried about the silicone strips damaging my boots instead of the socks wearing out. My last pair of boots only lasted a season because I wore through my old socks and wore out the liner. But after closer inspection of my liners today the appears to be no damage. Perhaps the lack of movement is extending the life of my boots also. I suffer cold feet because they sweat and then the sweat freezes. So bad that I use antiperspirant on my feet to prevent sweating. Not sure these socks are any colder or warmer, or because I've had a warmer season in Japan, but I don't find myself thinking about cold feet so often. Ill take that as a win in any case. I find the silicone strips in the heel to be quite painful if I ski super lazy when I'm bored on green runs/etc. Ironic that socks have improved my skiing after I've been forced to ski properly all the time. Recommend against these socks if you have poor technique and/or like to overflex your boot in strange angles. I plan to purchase a couple more pair once they come back into stock.
27/07/2020
teddy
Australia
These are awesome
This sock is awesome, I highly recommend it for anyone who skis in the backcountry.
Size Guide
SOCKS
ADULT
US Men
US Women / AU Women
Euro
UK / AU Men
Small
3-5.5
4-6.5
34-37
2-4.5
Medium
6-8.5
7-9.5
38-41
5-7.5
Large
9-11.5
10-12.5
42-45
8-10.5
X Large
12-14.5
N/A
46-49
11-13.5
KIDS
US
Euro
UK
Small
9-11.5
26-28
8-10.5
Medium
12-2.5
29-32
11-13.5
Large
3-6
33-36
1-4.5
MEN'S Inches
Small
Medium
Large
X-Large
Chest
36-38
39-41
42-44
45-48
Waist
29-31
32-34
35-37
38-40
Hip
36-38
39-41
42-44
45-48
Arm Length
31-32
32-33
33-34
34-35
MEN'S CMs
Small
Medium
Large
X-Large
Chest
91.5-96.5
99-104
106.5-112
114.5-122
Waist
73.5-78.5
81.5-86.5
89-94
96.5-101.5
Hip
89-96.5
99-104
106.5-112
114.5-122
Arm Length
78.5-81.5
81.5-84
84-86.5
86.5-89
WOMEN'S Inches
X-Small
Small
Medium
Large
Chest
32-33
34-35
36-38
39-40
Waist
24-25
26-27
28-30
31-32
Hip
35-36
37-38
39-40
41-42
Arm Length
27-28
28-29
29-30
30-31
WOMEN'S CMs
X-Small
Small
Medium
Large
Chest
81.5-84
86.5-89
91.5-96.5
99-101.5
Waist
61-63.5
66-68.5
71-76
78.5-81.5
Hip
89-91.5
94-96.5
99-101.5
104-106.5
Arm Length
68.5-71
71-73.5
73.5-76
76-78.5
KIDS'S Inches
Small
Medium
Large
X-Large
Age
5-6
7-8
9-10
11-12
Chest
24-25
25.5-26.5
27-28
28.5 - 30
Waist
22-22.5
23-24
24.5-25
25.5 - 26.5
Height
42-48
48-54
54-57
57 - 60
Weight (lbs)
42-49
49-59
59-75
75 - 89
KID'S CMs
Small
Medium
Large
X-Large
Age
5-6
7-8
9-10
11-12
Chest
61-63.5
64-67.5
68.5-71
72.5-76
Waist
56-57
58.5-61
62-63.5
65-66
Height
106.5-122
122-137
137-145
145-152.5
Weight (kgs)
19-22
22-26.5
26.5-34
33-40.5
UNISEX Inches
Extra Small
Small
Medium
Large
Length
6.5"
7"
7.5"
8"
Width
7.5"
7.5" - 8"
8" - 8.5"
8.5" - 9"
UNISEX CMs
Extra Small
Small
Medium
Large
Length
17
18
19
20
Width
18.5
19.5
21
22.5